Avalanche Courses
Heli Access is now available to the beautiful Panorama B.C. Backcountry!
Canadian Avalanche Association recreational level courses for skiers, snowboarders, snowmobilers, and all backcountry travelers.
Learn the basics of recognizing unstable snow and avalanche terrain, and assessing avalanche danger.
We follow the Avalanche Canada's course outlines and a text book is included for your personal use. We can provide for you the Avalanche Skills Training (AST) Level 1 (two day), AST level 2 (four day), and Companion rescue training (one day refresher), or any combination of the above at your request.
These courses are essential training for anyone venturing into the mountains on a winter snowpack! Courses can be either taken in a group or custom crafted to meet your needs.  Upon completion of this 16 hour course you will receive a certificate of attendance.
The Recreational Avalanche Course program offers two levels of training, introductory and advanced. The course outlines have been developed to meet the needs of the recreational user and provide a framework for course providers ensuring that the minimum required material is covered. We can adapt the course materials to meet the needs and interests of the course participants.
The instructor for the course, Michael Caswell is a member of the Canadian Association of Mountain Guides and Professional members of the Canadian Avalanche Association. We have worked in the avalanche industry in avalanche control , helicopter and cat skiing guiding. Our well rounded experience provides a wealth of knowledge to share with students.
What will I learn at an avalanche course?
Learn how to recognize avalanche terrain and be aware when you are at risk.
Learn about the factors that create unstable snow.
Learn how to plan for activities in the winter environment and where to get publicly available information on weather and the current avalanche conditions.
Learn how to observe conditions as you travel and recognize avalanche danger.
Learn how to travel in a way that reduces risk and maximizes your chances of surviving an avalanche.
Learn about the proper equipment to take and how to use it in an emergency.
Learn about controlling the human factors involved when fun activities take place in potentially dangerous environment.
No previous experience is necessary. Travel in avalanche terrain on skis, snowboard, snowshoes, or snowmobile is needed to access instructional locations.
Most avalanche courses are arranged on a custom basis or combined with another adventure to best suit the needs and experience of your group. Pease Contact us for custom bookings of an AST 1, AST 2, CRS or to create another custom Course!
December 2019 Course 1:
-Saturday Dec 14 and Sunday Dec 15, 2019 at Panorama Ski area.
December 2019 Course 2:
-Saturday Dec 14 and Sunday Dec 21, 2019 at Panorama Ski area.
Please Click here to request your AST course dates, or request a private course or AST level 2!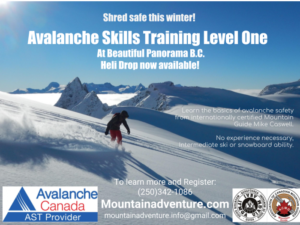 Toll Free: 1-877-342-3214
Invermere Local: 250-342-1086