Ski Touring
We offer ski tours in the Canadian Rockies near Lake Louise and Field A.B. on the Wapta Icefield and along the Icefield Parkway, in the Selkirks at Fairy Meadows, in the Rogers Pass, in the European Alps and everywhere in between. From December to early May ski touring is the way to access the high mountains for great views, fun adventures and super ski descents.
Hotel or resort based trips allow you to explore the mountains on exciting day trips while keeping your pack light and your nights comfortable. This is a great way to go in mid winter when days are short and nights are cold.
Hut based ski touring is a great way to explore the mountains in winter conditions and enjoy it. These trips can be either traverses where we move to sleep in different hut each night or a "basecamp" trip where we make day trips from the hut. The Canadian Alpine Club huts tend to be quite simple in contrast to the huts along the Haute Route in Switzerland which are fully catered and serviced.
Tent based Ski Touring is the ultimate in adventure and freedom. On tent based trips we may either move our camp each night or choose to set up a basecamp and make day trips from there. On tent based trips we have the ability to explore remote areas and pristine wilderness, the only limitation is your imagination!
Join us for the ski adventure of a lifetime!
Examples include:
Wapta Traverse – 4-6 days (Bow, Balfour, and Scot Duncan Huts)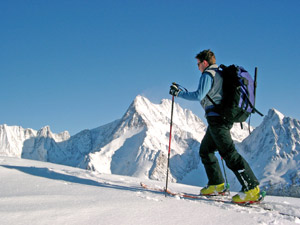 Fairy Meadows – 7 days (ACC cabin)
Rogers Pass – 5 days (Best Western Hotel)
Rogers Pass –  2 days (Asulkan Hut)
Bugaboos to Rogers pass traverse – 7 days (Tent Based)
European Haute Route – 8 days ( hotels and mountain refuges)
These trips can be accomplished on telemark skis, Randone' skis, or split snowboard. The snow conditions can vary from heavenly powder to challenging wind crust. A great place to improve your mountain ski technique.
Contact us to see what trips we have available this winter!