Seven in Seven Presentation
Daniel Griffith entertains and inspires with his story about climbing to the top of the highest summits on each of the seven continents in less then seven months. His journey begins with his stellar trip to the summit of Mount Everest. Stunning images accompanied by music present a journey worth taking and produce a multitude of emotions for the audience.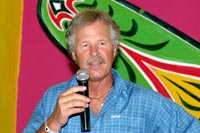 His fascinating story demonstrates how one man at the age of 55 manages the challenges of high altitude mountain travel, logistical nightmares, finances and family connections to complete his dream.
Dan's "Seven in Seven" presentation will move you as he takes you around the world to different cultures on seven continents where you will soar with him to new heights as he accomplishes each summit.
An honest, moving adventure! Powerfully inspiring and positive!